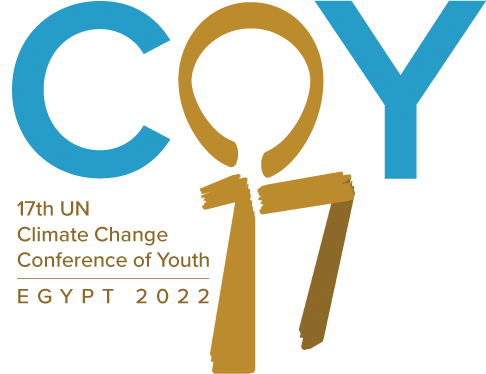 UofCanada Showcases Students' Most Innovative Projects in COY 17
The Outstanding Contribution of UPEI, Cairo Campus's Sustainable Design Engineering and Computer Science & Mathematics Community Made an Impact in The United Nations Climate Change Conference of Youth (COY 17).
SHARM EL-SHEIKH, November 8, 2022 — On Wednesday, November 2, 2022, our UPEI Cairo Campus students introduced their projects to some of the most notable participants at COY 17. Sustainable Design Engineering seniors Shatha Arslan and Fahad Umaru, along with their professor, Dr. Ammar Ewes, exhibited several innovative projects, including the Nile Cleaner, Solar Car, Solar Panel Cleaner, a Hydroponics System, and the Vertical Axis Wind Turbine. Computer Science & Mathematics Teaching Assistant Karim Mounir has also brought to light brilliant students' graduation projects which showcased their advanced programming skills. The epitome of those projects was a simulated game of a sustainable city specifically designed to instill awareness of the UN's 17 Sustainable Development Goals (SDGs). Each displayed project at the booth proved to contribute positively to climate change initiatives.
COY 17 is the 17th annual Convention of Youth under The Official Youth Constituency of The United Nations Framework Convention on Climate Change (UNFCCC), YOUNGO, and was held in the Olympic Village in Sharm El-Sheikh, Egypt. This convention serves as a way for the youth to speak up and be heard about climate change and sustainability concerns. Youth from all around the world gather every year just prior to the annual Conference of the Parties (COP) to help prepare them and to bring their contributions to those in the UNFCCC who have influence in the intergovernmental policies regarding climate change.
We had the pleasure of being a leading university in such a significant event. We consistently encourage innovation in our Sustainable Design Engineering and Computer Science & Mathematics programs to find ways to utilize renewable energy, reduce waste, and implement more sustainable project prototypes. Implementing these techniques on a larger scale could help promote the usage of renewable energy and the reduction of unsustainable methods. The projects that most attracted the attention of both organizers and attendees are the Nile Cleaner, the Sustainable City videogame, and the Hydroponics System. Our students and staff happily presented the projects that accurately conveyed what UofCanada is all about. Prominent officials visited our booth, including Mr. Jeremy Hopkins, UNICEF Representative; Ms. Frederika Meijer, UNFPA Representative; Ms. Regina Chang, Head of the TWYCC COP27 Delegation, and Dr. Osama El Khayat, Head of the National Renewable Energy Authority (NREA).
It was an honour to be present at such a world-changing convention. Having our staff and students contribute to the future development of climate change mitigation efforts was an opportunity to make a difference.